5 BEST Trap Workout EXERCISES TO BUILD BIGGER TRAPS
Your biceps and triceps might be popping, but big arms are nothing without some bulging traps muscles to support your upper limp arsenal.
Building mass and strength in your BEST Trap Workout not only creates the signature bodybuilder aesthetic, but it also helps maintain correct posture alongside playing a key roll with your heavy lifts. Exercises that train your traps muscles are a really important addition to your upper body workout routine, and we've got the best traps exercises for you to try.What are the best exercises for traps? We've got five exercises you should definitely add to your next traps workout, or back workout in general…
SCROLL DOWN TO FIND OUT MORE ABOUT EACH TRAPS EXERCISE, AND HOW TO DO THEM.
1. SHRUGS
It wouldn't be a list of the best exercises for traps if we didn't mention shrugs. When you think of training your traps, shrugs are probably one of the first exercises that come to mind, and for good reason. These bad boys are great for activating your upper and middle traps and help to build mass, strength and muscular endurance.
Shrugs are a great exercise whatever your ability, as they can be done with anything from dumbbells and barbells to cables or a trap bar. This also makes them the perfect traps exercise if you're short on equipment or don't fancy waiting around for the barbell.
The shrug exercise can make for a great upper body finisher, isolating the traps muscles. Pick an appropriate weight and aim for 3 sets of 15-20 repetitions to really feel the burn.
2. BARBELL DEADLIFT
If we're talking about the best ways to build a specific muscle group, deadlifts pretty much always feature, and we're not even sorry about it.
When performed correctly, deadlifting is one of the best compound exercises out there, demanding so much, from so many muscle groups in the body. This lift requires your entire back to be engaged, including your traps muscles.
Yes, the traps aren't the main focus of this lift, but the beauty of the deadlift is that all three parts of the trapezius muscle are challenged.
Start your workout with deadlifts, end it with shrugs and trust us, your traps will have got a serious pump from two of the best traps exercises.
3. RACK PULLS
If you don't know what rack pulls are, it's pretty much the top half of a deadlift; rather than lifting the bar from the floor, you pull from the rack at roughly knee height.
So why are they featuring as well as a deadlift? Well, as you are pulling from a higher point when compared to a conventional deadlift, rack pulls concentrate on the upper portion fo the deadlift movement, which demands more from the upper body, back and traps muscles.
Therefore, if today isn't leg day, you can target your traps with rack pulls rather than a full, conventional deadlift. They're not going to give you the same full-body strength development, but rack pulls are definitely up there with the best exercises for traps.
4. UPRIGHT ROWS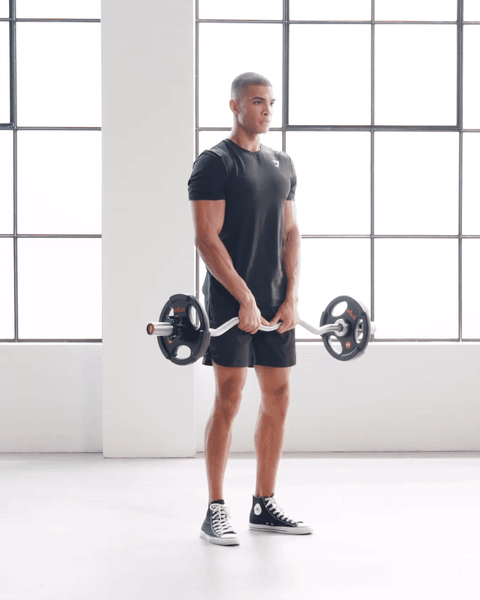 Upright rows are a great exercise to add to your traps muscle workout routine, and if you're currently skipping them, it's definitely time to give this exercise a little love. Not only are they going to help you build strength and mass in your traps, but they also challenge your anterior and rear deltoids.
Linked to shoulder pain and causing shoulder impingement, the upright row is an exercise that needs to be performed correctly to avoid issues.
Start light and master the the movement, focusing on the muscular contraction in a higher rep range. The upright row is also an essential part of the clean and press; so if if you're an olympic lifter, isolating this movement may help you throw more weight above your head!
If you do struggle with shoulder pain, this may be one to avoid.
5. FACE PULLS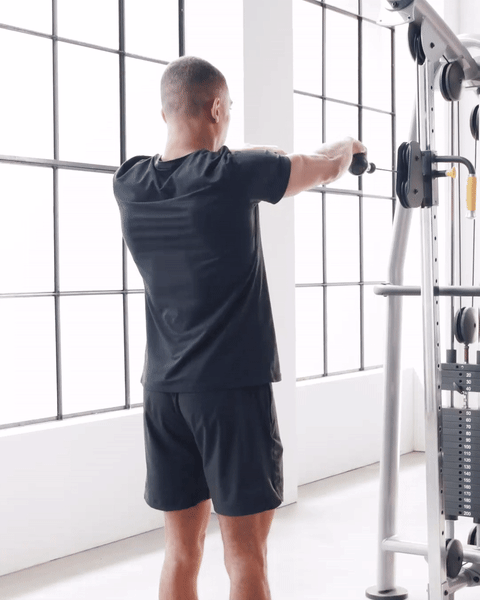 Face pulls are often overlooked when it comes to upper body exercises. However, they are an excellent exercise when it comes to building muscle, correcting posture and promoting good overall shoulder health.
Similar to upright rows, face pulls are a shoulder exercise that also engage the traps muscles.
They need to be performed in a controlled motion, ensuring the muscles are loaded correctly is key to avoiding shoulder joint issues.
Add them in at the end of your workout for a finisher that is guaranteed to leave your traps muscles ruined… in a good way.
TRY THIS SHOULDER WORKOUT OR CREATE YOUR OWN TRAPS MUSCLE WORKOUT
We've given you five of the best traps exercises for building bigger, more developed traps muscles.Now it's time to put them to the test.
Plan your own workout from the five above, add a couple on to your current workout routines or make your own workout programme on the Gymshark Conditioning App.
When Can You Sue For Getting Cancer?
Being diagnosed with cancer can be devastating and affect anyone at any age. Several factors, such as genetics and lifestyle, can cause it. However, cancer can also be caused by the negligence of others. In such an instance, you can sue the people responsible for causing your cancer and claim compensation for the diagnosis and any associated damages.
Determining when and who to sue for getting cancer can be a complex process. So, it's a wise idea to hire a lawyer to get you through the process and get the compensation you deserve. The attorney can advise you on when, how, and whom to sue for getting cancer.
With that said, here's when you can sue for getting cancer:
Product Liability
You can sue for getting cancer from a defective product. For example, in one hair product cancer lawsuit, a claim was made that a hair straightening product was causing uterine cancer in women. The defects in the hair product increase the risk of developing uterine cancer for whoever uses it. If you think you're in a similar situation, you can sue the manufacturers if a certain product increases your risk of developing cancer.
However, proving your case and claiming compensation can be challenging. In such a case, you must prove the defective product caused your cancer to sue the manufacturer or retailer. You'll have to request tests on the products to prove the defect and the relationship to cancer development. The product defect has to have caused your cancer diagnosis directly. One example is when the product has excessive amounts of lead. You'll need to hire experts or resort to government authorities to investigate the product to prove this. This way, you have a piece of solid evidence to sue the product manufacturer.
Medical negligence is one of the most common reasons to sue for getting cancer. You could sue for medical malpractice if the doctors, healthcare facility, hospital, or other medical professionals failed to offer the standard of care causing your cancer diagnosis. For example, if the doctor failed to order necessary tests or misdiagnosed your case resulting in cancer progression, you can sue for medical negligence.  
To successfully sue for medical negligence, you must prove that the medical practitioner's actions directly caused your cancer diagnosis. You must also show that you suffered damage because of the negligent actions of the medical practitioner. By doing so, you can claim compensation for treatment of progressing cancer, lost wages if you cannot work, and pain and suffering.
Exposure to environmental pollutants and toxins is a common risk factor for cancer. Prolonged exposure to asbestos at the workplace, radiation, and other chemicals can increase cancer risk. If you can prove your cancer was caused by exposure to a certain environmental toxin like asbestos, consider suing the company or entity responsible for the pollutants.
Suppose a company's activities produce excessive radiation that affects the population in a specific area and results in cancer. In that case, you can sue that company for exposing you to toxins that caused the development of your cancer.
Like the previous points, you must prove your cancer was directly caused by a specific substance you were exposed to. You'll also have to show that the exposure was from the negligence of the company or entity you're suing. Another aspect you must consider is the entity's knowledge of the potential risks of exposing people to the toxin or substance. Since you'll also claim that the company or entity was negligent, expose their bad practices that contributed to the development of your cancer.
Additionally, working in a hazardous environment may expose you to substances or toxins that can increase your cancer risk. For instance, if you're a construction worker with constant exposure to asbestos, you'll be at risk of developing cancer. Working as a firefighter can also expose you to asbestos and other carcinogenic substances that cause cancer.
You can sue your employer for getting cancer while working in a hazardous environment. To be successful, you must prove the cancer was caused directly by exposure to a specific chemical or substance at the workplace or in the line of duty. For example, getting cancer from asbestos exposure at a construction site.
In such a suit, you'll claim compensation for the medical expenses covering the diagnosis and treatment, lost wages, damages for the pain and suffering caused to you and your family, and other associated costs.
Conclusion Getting a cancer diagnosis because of someone else's negligence can be traumatizing and devastating. However, you can get a little relief through compensation for the medical expenses and other related damages, such as pain and suffering. The process of suing for getting cancer can be complicated, and it'd be best to hire an experienced lawyer to handle the litigation process. An attorney can also advise on the available legal options available and the compensation to seek.
Khalil ur Rehman is a proud born and raised in Abbottabad. Khalil has worked as a journalist for nearly a decade having contributed to several large publications including the Yahoo News and The Verge. As a journalist for The Hear Up, Khalil covers climate and science news. [email protected]