5 BEST Trap Workout EXERCISES TO BUILD BIGGER TRAPS
Your biceps and triceps might be popping, but big arms are nothing without some bulging traps muscles to support your upper limp arsenal.
Building mass and strength in your BEST Trap Workout not only creates the signature bodybuilder aesthetic, but it also helps maintain correct posture alongside playing a key roll with your heavy lifts. Exercises that train your traps muscles are a really important addition to your upper body workout routine, and we've got the best traps exercises for you to try.What are the best exercises for traps? We've got five exercises you should definitely add to your next traps workout, or back workout in general…
SCROLL DOWN TO FIND OUT MORE ABOUT EACH TRAPS EXERCISE, AND HOW TO DO THEM.
1. SHRUGS
It wouldn't be a list of the best exercises for traps if we didn't mention shrugs. When you think of training your traps, shrugs are probably one of the first exercises that come to mind, and for good reason. These bad boys are great for activating your upper and middle traps and help to build mass, strength and muscular endurance.
Shrugs are a great exercise whatever your ability, as they can be done with anything from dumbbells and barbells to cables or a trap bar. This also makes them the perfect traps exercise if you're short on equipment or don't fancy waiting around for the barbell.
The shrug exercise can make for a great upper body finisher, isolating the traps muscles. Pick an appropriate weight and aim for 3 sets of 15-20 repetitions to really feel the burn.
2. BARBELL DEADLIFT
If we're talking about the best ways to build a specific muscle group, deadlifts pretty much always feature, and we're not even sorry about it.
When performed correctly, deadlifting is one of the best compound exercises out there, demanding so much, from so many muscle groups in the body. This lift requires your entire back to be engaged, including your traps muscles.
Yes, the traps aren't the main focus of this lift, but the beauty of the deadlift is that all three parts of the trapezius muscle are challenged.
Start your workout with deadlifts, end it with shrugs and trust us, your traps will have got a serious pump from two of the best traps exercises.
3. RACK PULLS
If you don't know what rack pulls are, it's pretty much the top half of a deadlift; rather than lifting the bar from the floor, you pull from the rack at roughly knee height.
So why are they featuring as well as a deadlift? Well, as you are pulling from a higher point when compared to a conventional deadlift, rack pulls concentrate on the upper portion fo the deadlift movement, which demands more from the upper body, back and traps muscles.
Therefore, if today isn't leg day, you can target your traps with rack pulls rather than a full, conventional deadlift. They're not going to give you the same full-body strength development, but rack pulls are definitely up there with the best exercises for traps.
4. UPRIGHT ROWS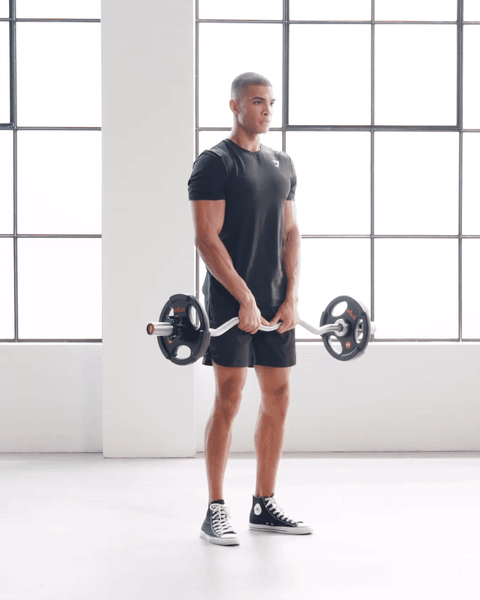 Upright rows are a great exercise to add to your traps muscle workout routine, and if you're currently skipping them, it's definitely time to give this exercise a little love. Not only are they going to help you build strength and mass in your traps, but they also challenge your anterior and rear deltoids.
Linked to shoulder pain and causing shoulder impingement, the upright row is an exercise that needs to be performed correctly to avoid issues.
Start light and master the the movement, focusing on the muscular contraction in a higher rep range. The upright row is also an essential part of the clean and press; so if if you're an olympic lifter, isolating this movement may help you throw more weight above your head!
If you do struggle with shoulder pain, this may be one to avoid.
5. FACE PULLS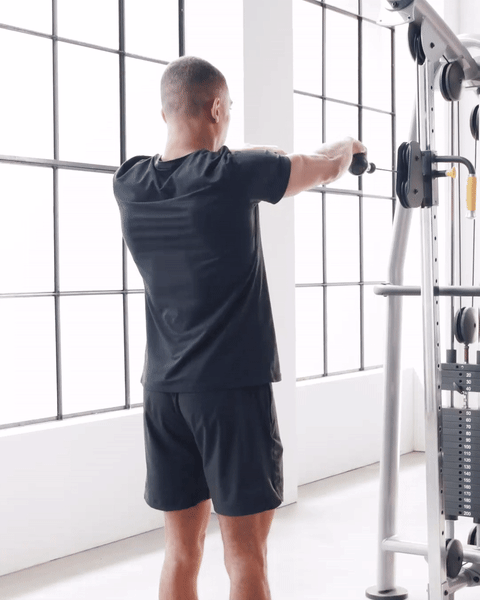 Face pulls are often overlooked when it comes to upper body exercises. However, they are an excellent exercise when it comes to building muscle, correcting posture and promoting good overall shoulder health.
Similar to upright rows, face pulls are a shoulder exercise that also engage the traps muscles.
They need to be performed in a controlled motion, ensuring the muscles are loaded correctly is key to avoiding shoulder joint issues.
Add them in at the end of your workout for a finisher that is guaranteed to leave your traps muscles ruined… in a good way.
TRY THIS SHOULDER WORKOUT OR CREATE YOUR OWN TRAPS MUSCLE WORKOUT
We've given you five of the best traps exercises for building bigger, more developed traps muscles.Now it's time to put them to the test.
Plan your own workout from the five above, add a couple on to your current workout routines or make your own workout programme on the Gymshark Conditioning App.
Advice On Extending The Life Of Your Memory Foam Bed
The ultra-absorbent polyurethane foam used to produce memory foam mattresses sometimes referred to as "synthetic viscoelastic foam," provides pliable support that makes lying on one feel like lying on a cloud. Given that NASA developed memory foam for space shuttles, that is logical. Customers have gushed about the wonderful comfort these beds offer since memory foam entered the mattress market.
Maintaining the quality of the best memory foam mattresses you have purchased became essential over time. At the end of this post, you will grasp the tips on how to maintain the comfort and durability of your memory foam mattress. read in advance;
1. Ensure Your Mattress Is Safe
Innovative mattress protectors. A mattress protector should fit snugly, like a fitted sheet, to prevent spills and stains. Encasement protectors, which cover all six sides and have a zipper, are also available (including the bottom). Sleepers with allergies or bedbugs can utilize the best mattress encasement protectors. Whether you eat in bed or not, a mattress cover is vital to protect your mattress from bodily fluids, skin flakes, spilled food, and drinks.
2. Lay A Firm Foundation
Having a base isn't required for a memory foam mattress to operate well, but it will raise your bed to the right height. If you use memory foam mattresses, your base must be solid, level, and gap-free. Slats on a slatted base should be no more than 2.75 inches apart to prevent uneven mattress wear. If the slats are too far apart, you'll need to buy extra or use a plywood board.
3. Prevent Pets And Children From Jumping
This counsel is direct. Pets who roam freely and lie on the bed stimulate the spread of germs, insects, and bacteria where you sleep. The perfect situation is when you meet a nice and cuddly bedmate. The worst-case situation is parasite eggs nearby about to hatch. It's encouraged to ban youngsters under 8 from jumping on beds. Bouncing on the bed is not only hazardous, but it also damages the mattress. The memory foam is overworked by the quick up-and-down movements, which don't prolong its life.
4. Rotate Your Mattress Regularly
It's common if you've heard of this advice, but have you ever put it to use? Rotate your memory foam mattress 180 degrees every season, starting right away. This method is based on the idea that sleeping in the same spot on the mattress every night could be uncomfortable and lead to a concentration of wear and tear in that area. It should be noted that certain high-end made in the USA mattress producers make mattresses that don't need to be turned.
5. Make Your Mattress Clean
Your memory foam mattress may be protected against sweat, dust mites, and other allergies by vacuuming it at least twice a year. Start by sprinkling baking soda on your stripped mattress since the longer it remains there, the better. A few drops of essential oil are an optional addition. At some point, take out the vacuum and completely remove the baking soda using the upholstery attachment. The tufts, seams, and areas between the mattress and foundation are known to be dust mite havens.
6. Do Not Make Your Bed
You did indeed read that correctly. While it might appear illegal to put off making your bed, it is not recommended. Delaying making the bed gives your memory foam mattress and linens time to breathe, giving any moisture that may have accumulated throughout the night a chance to evaporate.
Umar Nisar was born and raised in the busy city of Abbottabad. As a journalist, Umar Nisar has contributed to many online publications including PAK Today and the Huffing Post. In regards to academics, Umar Nisar earned a degree in business from the Abbottabad UST, Havelian. Umar Nisar follows the money and covers all aspects of emerging tech here at The Hear Up.
Thanks