5 BEST Trap Workout EXERCISES TO BUILD BIGGER TRAPS
Your biceps and triceps might be popping, but big arms are nothing without some bulging traps muscles to support your upper limp arsenal.
Building mass and strength in your BEST Trap Workout not only creates the signature bodybuilder aesthetic, but it also helps maintain correct posture alongside playing a key roll with your heavy lifts. Exercises that train your traps muscles are a really important addition to your upper body workout routine, and we've got the best traps exercises for you to try.What are the best exercises for traps? We've got five exercises you should definitely add to your next traps workout, or back workout in general…
SCROLL DOWN TO FIND OUT MORE ABOUT EACH TRAPS EXERCISE, AND HOW TO DO THEM.
1. SHRUGS
It wouldn't be a list of the best exercises for traps if we didn't mention shrugs. When you think of training your traps, shrugs are probably one of the first exercises that come to mind, and for good reason. These bad boys are great for activating your upper and middle traps and help to build mass, strength and muscular endurance.
Shrugs are a great exercise whatever your ability, as they can be done with anything from dumbbells and barbells to cables or a trap bar. This also makes them the perfect traps exercise if you're short on equipment or don't fancy waiting around for the barbell.
The shrug exercise can make for a great upper body finisher, isolating the traps muscles. Pick an appropriate weight and aim for 3 sets of 15-20 repetitions to really feel the burn.
2. BARBELL DEADLIFT
If we're talking about the best ways to build a specific muscle group, deadlifts pretty much always feature, and we're not even sorry about it.
When performed correctly, deadlifting is one of the best compound exercises out there, demanding so much, from so many muscle groups in the body. This lift requires your entire back to be engaged, including your traps muscles.
Yes, the traps aren't the main focus of this lift, but the beauty of the deadlift is that all three parts of the trapezius muscle are challenged.
Start your workout with deadlifts, end it with shrugs and trust us, your traps will have got a serious pump from two of the best traps exercises.
3. RACK PULLS
If you don't know what rack pulls are, it's pretty much the top half of a deadlift; rather than lifting the bar from the floor, you pull from the rack at roughly knee height.
So why are they featuring as well as a deadlift? Well, as you are pulling from a higher point when compared to a conventional deadlift, rack pulls concentrate on the upper portion fo the deadlift movement, which demands more from the upper body, back and traps muscles.
Therefore, if today isn't leg day, you can target your traps with rack pulls rather than a full, conventional deadlift. They're not going to give you the same full-body strength development, but rack pulls are definitely up there with the best exercises for traps.
4. UPRIGHT ROWS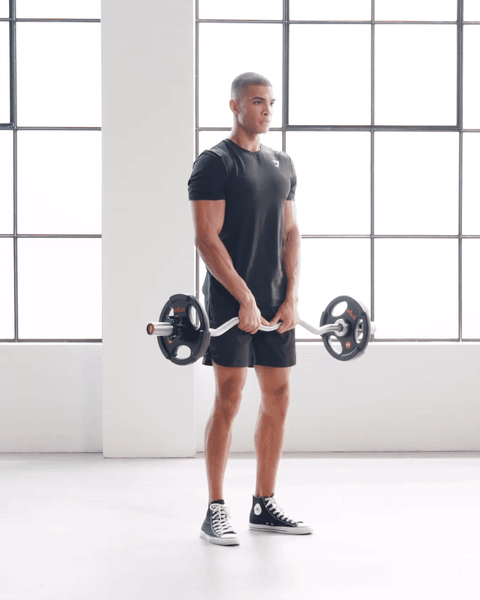 Upright rows are a great exercise to add to your traps muscle workout routine, and if you're currently skipping them, it's definitely time to give this exercise a little love. Not only are they going to help you build strength and mass in your traps, but they also challenge your anterior and rear deltoids.
Linked to shoulder pain and causing shoulder impingement, the upright row is an exercise that needs to be performed correctly to avoid issues.
Start light and master the the movement, focusing on the muscular contraction in a higher rep range. The upright row is also an essential part of the clean and press; so if if you're an olympic lifter, isolating this movement may help you throw more weight above your head!
If you do struggle with shoulder pain, this may be one to avoid.
5. FACE PULLS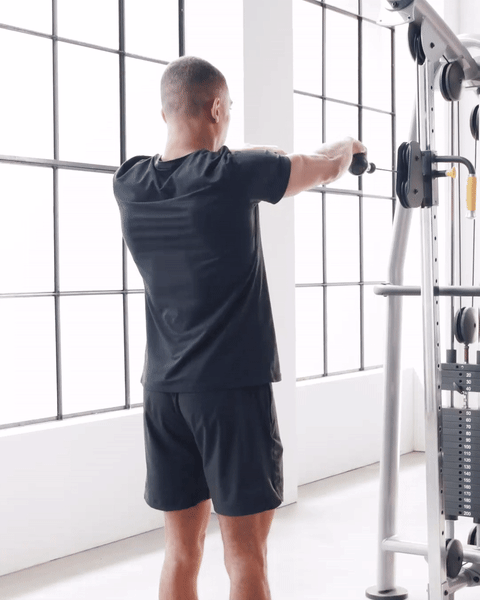 Face pulls are often overlooked when it comes to upper body exercises. However, they are an excellent exercise when it comes to building muscle, correcting posture and promoting good overall shoulder health.
Similar to upright rows, face pulls are a shoulder exercise that also engage the traps muscles.
They need to be performed in a controlled motion, ensuring the muscles are loaded correctly is key to avoiding shoulder joint issues.
Add them in at the end of your workout for a finisher that is guaranteed to leave your traps muscles ruined… in a good way.
TRY THIS SHOULDER WORKOUT OR CREATE YOUR OWN TRAPS MUSCLE WORKOUT
We've given you five of the best traps exercises for building bigger, more developed traps muscles.Now it's time to put them to the test.
Plan your own workout from the five above, add a couple on to your current workout routines or make your own workout programme on the Gymshark Conditioning App.
Having completed my education in English, I've cultivated a successful career as a content writer. My tenure includes valued collaborations with distinguished professional organizations, reflecting my commitment to producing high-quality content.
Contact me on this mail: [email protected]
The Importance of Business Continuity and Risk Management Plan
Have you considered what could happen if a major disruption hit your business today?
Ensuring business continuity and risk management is like having an insurance policy for your business operations. This article explains why solid continuity planning is crucial and how it can protect your business from unforeseen events.
It's a must-read if you want to be prepared for anything and keep your business running smoothly no matter what happens.
Minimizing Downtime
Downtime can hurt your business big time. It can stop your work, upset your customers, and cost you money. So, it's super important to minimize downtime as much as possible.
A solid business continuity plan can help you do that. It keeps things up and running when disruptions happen, keeping your downtime low.
Protecting Your Reputation
When something goes wrong with your business, it can negatively affect your reputation. And we all know how important a good reputation is for success.
A well-designed risk management plan can help mitigate potential harm to your brand image in case of a disruption. This can include regular data backups, secure storage and communication protocols, and a crisis communications plan in a PR emergency.
Ensuring Financial Stability
Problems with how businesses work can also cause money problems. If your business doesn't have a good continuity plan, it might be hard to get back on its feet after something unexpected happens and costs a lot of money.
A risk management plan helps you determine the possible financial risks and how to lower them. Some things that can help with this are having a savings or emergency fund, getting insurance, and spreading your purchases.
Supply Chain Management
Supply chain problems may halt your business. You won't be able to run your business if you can't get the supplies you need or send your goods. You need a business survival plan to handle these risks well.
A well-organized supply chain management plan ensures backup providers are ready in case something goes wrong.
Complying with Regulations
Every business must follow certain rules and regulations. Depending on your business, these rules can be local, national, or even international. You might face big fines or other penalties if your business fails to follow these.
A good business continuity and risk management plan can help ensure you follow all the rules. This way, even if something unexpected happens, your business can continue to operate within legal boundaries.
Insurance Premiums
Insurance premiums can become a significant expense for businesses. A robust business continuity and risk management plan can lower these costs. By showcasing your proactive measures to insurers, you demonstrate that your business is less risky to them.
In this context, businesses may particularly consider this business liability insurance in NJ, as it aligns with a comprehensive risk management strategy and could contribute to more favorable premium terms.
Elevate Success With Business Continuity and Risk Management
A comprehensive business continuity and risk management plan is essential in today's dynamic and unpredictable business landscape. It protects your business from potential disruptions and helps you minimize downtime, protect your reputation, ensure financial stability, and comply with regulations.
Don't wait for a crisis – start creating your business resilience plan today! Remember, the best time to prepare is before you need it. Stay ahead of the game and keep your business safe and secure.
We hope you found this article helpful. If you did, be sure to check out our blog for more great content like this.
The Hear UP is a leading technology publication house. Our origin dates back to 2016 as a small forum for technology enthusiasts. Since then, The Hear UP has transformed into a trusted source for emerging tech and science news.
The majority of our news is provided by staff writers. Other news is provided by news agencies and freelancers.
All of our contributors are members of the Society of Professional Journalists.
If you need to contact a news editor from The Hear UP you can find a list of email addresses on our contact page.
Our Organisation
The Hear UP